The originators and inovators of extrusion technology since 1933.
AMERICAN EXTRUSION INTERNATIONAL
World Leaders in Snack Food and Cereal Systems
Equipment > Tooling/Dies
We Stock Parts for Most Direct Expansion
Extruders on the Market
For 75 years, American Extrusion has supported its customers by manufacturing and stocking a full range of consumable and spare parts for our extruders, as well as other direct expansion extruders on the market. All competitively priced and available for immediate delivery.
As leaders in the snack food industry, we are able to offer you a level of service and expertise no other company in the field can match. In addition, when you call AEI, you'll be assured your parts are manufactured using only the highest quality materials in accordance with strict production procedures using the latest, computer-controlled machining equipment.
Click on the Links to the right to open a diagram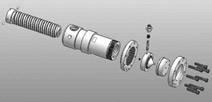 Every machine American Extrusion sells is backed by our legendary commitment to quality and customer support. If you're new to the industry, we can provide you with a 100% turn-key service that includes recipes, training, and more. To request a quotation, just click on the button below or call Rick Warner, Director of Sales, today at +1 (815) 624-6616 USA.