The originators and innovators of extrusion technology since 1933.
AMERICAN EXTRUSION INTERNATIONAL
World Leaders in Snack Food and Cereal Systems
Equipment > Ovens/Forced Air Dryers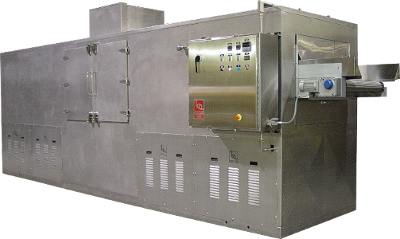 AEI's Single Pass Oven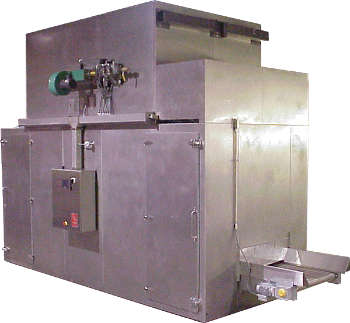 AEI's Three Pass Snack Series Dryer
Benefits: High capacity blowers to reduce moisture in either bake or fry type extruded products below 2%. Efficient fully modulating heaters with all required safeties. 5" insulation throughout oven walls. Air flow is tuned to provide even heat distribution. Fully wired panel to control belt speed, air velocity, burner and safeties. Large access doors with explosion relief latches, crumb pans below belt with easy access for cleaning. Complete manuals with wiring diagrams. No limit to size or capacity of ovens. Dryers built to suit customer specifications. All heating types (i.e. electric, No. 2 oil, LPG, Natural Gas, Steam etc.) available.
Construction: All stainless steel exterior with stainless steel food contact points or painted steel exterior with stainless steel food contact points. Belting can be of stainless or high carbon steel wire mesh weave. Single, double or 3-pass dryer models available.
Every machine American Extrusion sells is backed by our legendary commitment to quality and customer support. If you're new to the industry, we can provide you with a 100% turn-key service that includes recipes, training, and more. To request a quotation, just click on the button below or call Rick Warner, Director of Sales, today at +1 (815) 624-6616 USA.
ALSO AVAILABLE...
SINGLE PASS CEREAL SERIES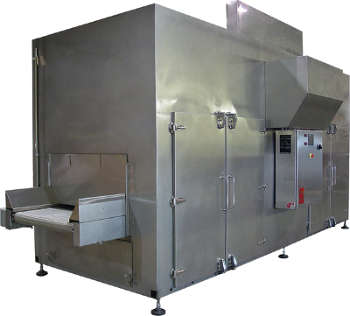 Extruders in our unmatched line:
Advantage 100 | Advantage 50 | Advantage 40 | Advantage 30 | Classic Series