The originators and innovators of extrusion technology since 1933.
AMERICAN EXTRUSION INTERNATIONAL
World Leaders in Snack Food and Cereal Systems
Product Categories > Chip Cutting System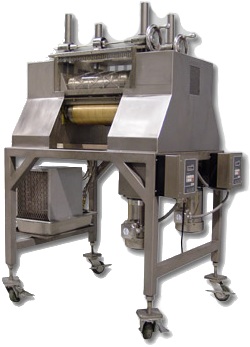 Our system produce snacks with sweet or savory flavors.
The Chip Cutting System is compatible with the Advantage 50 and Advantage 100 Extruders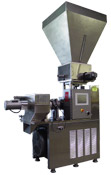 CHIP CUTTING SYSTEM
This system works makes fabricated tortilla and other chips from a single screw extruder, such as AEI's Advantage 50 or Advantage 100. Our system is much more cost effective than a traditional corn tortilla chip system and allows for complete control of the product texture. Please contact us for a free sample. Snack shapes are not limited to triangles.
Other Snack and Cereal Production Line Configurations
Standard Direct Expansion | Co-Extrusion | Reel Cutting | Cereal | Fry Type Extrusion | Extruded Bread