The originators and innovators of extrusion technology since 1933.
AMERICAN EXTRUSION INTERNATIONAL
World Leaders in Snack Food and Cereal Systems
Cutters > Reel Cutter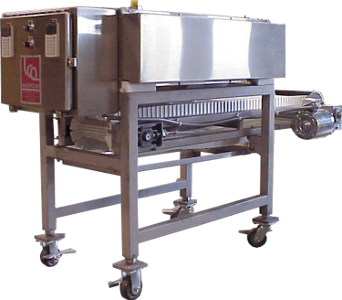 Shown above with optional conveyor.
American Extrusion International
Product #:
REEL-CUTTER
Request Quote
PRODUCE POTATO STICKS, FLAT AND WAVY CHIPS ON A BAKE TYPE EXTRUSION PRODUCTION LINE
Cuts into Lengths from 1 cm to 8 cm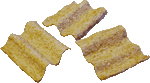 The Reel Cutter from American Extrusion lets you produce simulated corn chips, rice chips, potato chips, potato sticks and wavy chips on current bake-type extrusion production lines.
Benefits: Variable speed knife for length control, variable speed roller for stretch and strand control, pneumatically loaded compression roller to compress product. Above features allow operators to maintain total control of the texture, size, thickness and crispiness of the product.
Construction: Main unit constructed of 304 stainless steel rollers constructed of Electroless Nickel plating or food grade nylon (depending on application), frame is made of 3" tubular steel painted food grade white. Equipped with necessary rollers to make ship sticks.
Note: Product dies sold separately.
Every machine American Extrusion sells is backed by our legendary commitment to quality and customer support. If you're new to the industry, we can provide you with a 100% turn-key service that includes recipes, training, and more. To request a quotation, just click on the button below or call Rick Warner, Director of Sales, today at +1 (815) 624-6616 USA.