The originators and innovators of extrusion technology since 1933.
AMERICAN EXTRUSION INTERNATIONAL
World Leaders in Snack Food and Cereal Systems
Bake Type Extruders > Classic Series Single Screw Extruders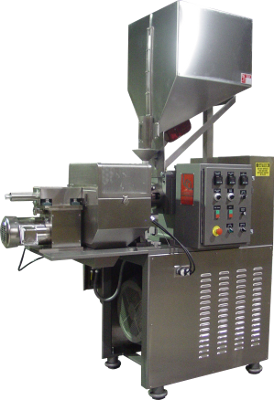 Video Clip shows our 50 HP Advantage 50 in action!
American Extrusion International
Product #:
EXTR-CLASSIC-50
Request Quote
CLASSIC SERIES SNACK EXTRUDERS
Benefits: Gravity hopper with vibrator for easy flow of raw materials, quiet direct drive, speed control of main drive via interchange of different diameter pulley. Motors are efficient inverter duty (inverter supplied by customer). Control panel includes display for die temperature, digital amp meter, and tachometer for main screw speed.
Construction: Painted mild steel tubular frame, painted steel belt guard, stainless steel hopper, stainless steel guard at product discharge, painted castings.
TECHNICAL SPECIFICATIONS
Model
Product
Capacity
(RAW)
Total Energy
Consumption
Main Drive
(HP)
Classic 20
129 Lbs/Hr
59 Kgs/Hr
23.5 KW
20
Classic 30
275 Lbs/Hr
125 Kgs/Hr
23.5 KW
30
Classic 40
385 Lbs/Hr
175 Kgs/Hr
28.6 KW
40
Classic 50
429 Lbs/Hr
195 Kgs/Hr
36.5 KW
50
Every machine American Extrusion sells is backed by our legendary commitment to quality and customer support. If you're new to the industry, we can provide you with a 100% turn-key service that includes recipes, training, and more. To request a quotation, just click on the button below or call Rick Warner, Director of Sales, today at +1 (815) 624-6616 USA.
Other extruders in our umatched line:
Advantage 100 | Advantage 50 | Advantage 40 | Advantage 30 | Tiger 20