OUR PELLET FRYING SYSTEMS ARE DELIVERED READY TO INSTALL.
Fry a Variety of Bouyant Food Products
with Varying Cook Times.
AEI's self-contained pellet systems are completely pre-wired and piped, arranged in a module ensuring ease of site installation and rapid commissioning and startup operation. Manufactured in all stainless steel, our Rotary Fryers are designed to meet the highest standards ... yours!
In addition, all American Extrusion Rotary Fryers incorporate an array of advanced design features, including:
Extremely low oil volume in Fryer means quick oil turn over for fresher products which will taste better and last longer on the shelf.
Multi-purpose design allows for frying a wide range of buoyant food products with varying cook times.
Robust pan design having multiple adjustable inlet manifold pipework and common oil take out pipe.
Rotary product control drum with specially designed flight compartments for precise timing control through oil bath and flawless product ejection.
Also see our Linear Fryers.
Plus, every machine we sell is backed by American Extrusion's legendary commitment to quality and customer support. If you're new to the industry, we can provide you with a 100% turn-key service that includes recipes, training, and more. To request a quotation, just click on the button below or call Rick Warner, Director of Sales, today at +1 (815) 624-6616 USA.


RF 200 Rotary Fryer pictured with
Vertical Coil Heat Exchanger.

Fines Removal System.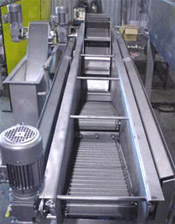 Oil Removal System (overhead view).