The originators and innovators of extrusion technology since 1933.
AMERICAN EXTRUSION INTERNATIONAL
World Leaders in Snack Food and Cereal Systems
Bake Type Extruders > Tiger 20 Single Screw Extruder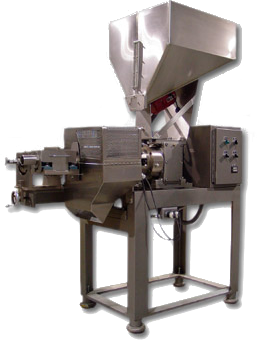 Video Clip shows our 50 HP Advantage 50 in action!
American Extrusion International
Product #:
TIGER-20
Request Quote
TIGER 20 BAKE TYPE
SINGLE SCREW SNACK EXTRUDER
Cost Efficient and Easy to Operate
Benefits:Compact size, economically priced, simple to operate, fixed speed, makes a wide range of shapes, precision cutting system, directmain drive (no belting required).
Construction: Stainless steel gravity feed hopper with vibrating control, durable stainless steel paint minimizes chipping and flaking, sturdy mild steel frame, mechanically designed for easy maintenance.
TIGER 20 TECHNICAL SPECIFICATIONS
Product Capacity Raw (Corn Curl Shape): 89 - 95 kg/hr
Total Energy Consumption: 19 KW
Horse Power Main Drive: 20 HP
Every machine American Extrusion sells is backed by our legendary commitment to quality and customer support. If you're new to the industry, we can provide you with a 100% turn-key service that includes recipes, training, and more. To request a quotation, just click on the button below or call Rick Warner, Director of Sales, today at +1 (815) 624-6616 USA.
Other extruders in our umatched line:
Advantage 100 | Advantage 50 | Advantage 40 | Advantage 30 | Classic Series