The originators and innovators of extrusion technology since 1933.
AMERICAN EXTRUSION INTERNATIONAL
World Leaders in Snack Food and Cereal Systems
Cutters > Pillow Cutter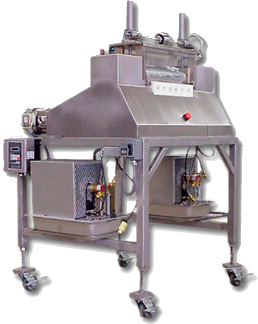 Our system produce snacks with sweet or savory flavors.
American Extrusion International
Product #:
PILLOW-CUTTER
Request Quote
MAKE SWEET OR SAVORY FLAVORED
CREAM FILLED CONFECTIONS
Produce up to Two Different Shapes at One Time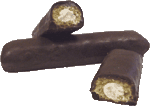 The Pillow Cutter is designed to pull filled tubes from the extrusion head. The filled tubes are then cut in various filled shapes such as: square, diamond or triangle pillows, sticks or bars. These products can then be packaged or coated with chocolate prior to packaging. By utilizing a special formula for the extruded material the products does not require baking. Finished product moisture is around 3% which gives a similar crispiness and shelf life to products like wafer and cereals. System handles input of two ropes from one American Extrusion Advantage 50 Bake Type Extruder.
Construction: Unit is designed to work in International factory settings for use in 24 hours a day, 7 days a week environments. System is mounted to oversized robust tubular stainless steel frame, all sheet work is comprised of 304 Brushed stainless steel. Cooling system is self contained. Hand wheel has been incorporated for roller pressure adjustment. Control panel is rated NEMA 4x with large digital display. Large locking casters are provided to move unit in and out of production system if desired. All contact surfaces are food grade.
Every machine American Extrusion sells is backed by our legendary commitment to quality and customer support. If you're new to the industry, we can provide you with a 100% turn-key service that includes recipes, training, and more. To request a quotation, just click on the button below or call Rick Warner, Director of Sales, today at +1 (815) 624-6616 USA.