The originators and innovators of extrusion technology since 1933.
AMERICAN EXTRUSION INTERNATIONAL
World Leaders in Snack Food and Cereal Systems
Product Categories > Rotary Head Extruder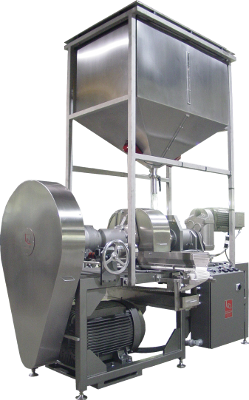 Video Clip shows our 850F in action!
Other Products >>
ROTARY HEAD PRODUCTION
This production line produces one of the most popular snack food products in the world - the fried corn curl. The process is unique because every piece is varied in length and diameter giving a home made effect. The texture of the product is very distinct in its crunchiness, and may be fried or baked. A large range of materials may be used. This production line can be configured with either our Model 350F, Model 850F or our Super Capacity rotary head extruders.
Other Snack and Cereal Production Line Configurations
Direct Expansion System | Chip Cutting System | Co-Extrusion | Reel Cutting | Cereal | Extruded Bread